Bob,after well -earned holiday, returned to work at the Mill. Much hard work is now going on behind the scenes with the final stages of the HLF application. Many thanks to Bob for finding the time to write this entry
And here is his eagerly awaited report on the week-end that at last, spring sprung.
We had a wonderful weekend with sunshine, lots of visitors and exceptional numbers of volunteers.  Amazing what a difference a few degrees makes!
We have been busy excavating at the front of Mellor Lodge.  We are helped by a set of drawings of Mellor Lodge by a Mr Dixon.  There are some intriguing features suggested by the drawings but we will have to wait until we have the funding to "dig deeper"!  For now we have uncovered the area below the front door, a section of the right hand front bay and a considerable length of the left front hand bay.
Next weekend will see us conducting a group of scouts from Warrington around the site.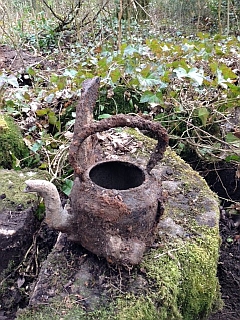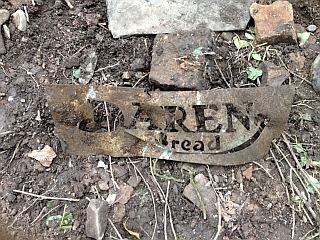 We have a couple of interesting finds, though probably not directly connected with Samuel Oldknow, one is a cast iron kettle (left above) and the other a metal stencil for DAREN Bread (right above).
http://marketlavingtonmuseum.wordpress.com/2011/05/20/daren-bread/
Daren bread was a brown, but not wholemeal loaf. It was once a well known style of bread and street adverts for it still exist around the country. Often these adverts emphasise the health benefits of this type of bread and also its suitability for invalids. It was a 'germ' bread, rich in wheat germ which increased the level of a number of vital nutrients such as vitamin E, folic acid and various trace elements, essential to health.