Come and see what we are doing !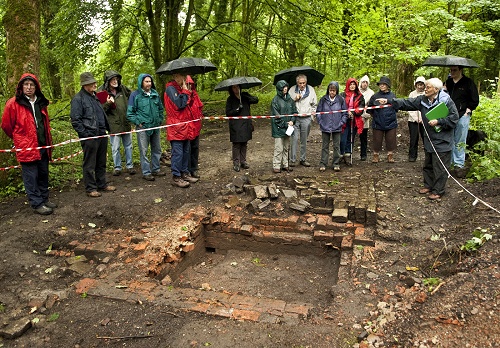 The Mellor Mill project enjoys about 200 visitors each weekend. The 'digging volunteers' have found the need to be supported by volunteers willing to be 'Tour Guides' around the site. I would love to hear from any of you who may be interested in becoming a Guide. We currently have 4 trained Guides doing a great job. However, so that we are not asking the same people every weekend, it would be great to have about 8 more.
(photo: A.M.Procter, sourced from Marple Virtual tour,with thanks)

 I will be running Training and Update sessions (for established and budding Guides) on Thursday 7th March at 10.30 am and Friday 15th March at 3 pm. Other Training and Update sessions will be arranged as required in the future.
 If you would like to come along and see what it is all about and how you might help then just turn up, in stout footwear and appropriate clothing, to one of the sessions. If the dates are not convenient please let me know so that an alternative can be organised.
 The Guides are split into 4 half day sessions (two Saturday and two Sunday) with the morning session being 10 am - 1 pm and the afternoon 1 pm - 4 pm. Each Guide is provided with a comprehensive folder of information and images.
Mellor Well Dressing
I pleased to be able to tell you that the theme for this year's Mellor Well Dressing will be Mellor Mill. This will be a great opportunity to promote the industrial heritage of our area to a large number of people. The Well Dressing will take place as part of Mellor Fete on Saturday 29th June. If you Google Mellor Well Dressing 2013 you will see that it is listed on many sites throughout Midlands and North West.
Best wishes to all and if you haven't been down to Mellor Mill for a while you will be in for a big surprise - we are moving on at a pace and work has continued throughout the winter. So even if you have decided the weather isn't quite warm enough for you to continue volunteering do come and have a look and catch up with the action.