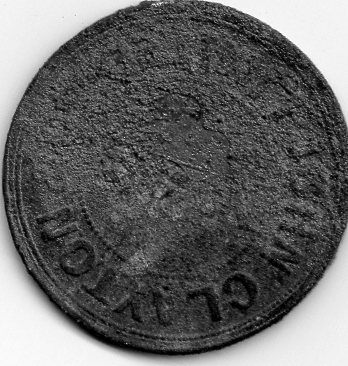 Well, what a great day today down at Mellor Mill.
One of our volunteers found this token inscribed with John Clayton's name.   John Clayton was the half brother of Samuel Oldknow, lived in Marple Lodge and was the Manager of Mellor Mill.  We are making new discoveries every time we work at this exciting site.  Today we also managed to piece together how the front entrance to the mill worked.  So on top of the lovely weather we had a great time updating our knowledge.
So far, this season, help from volunteers has been a bit thin on the ground.   The work is now much more to do with uncovering the footprint of the area in the immediate vicinity of the Wellington Wheel Pit and less to do with sifting through large mounds of spoil.  Your help and your skills are needed.   Interest from the public is amazing with over 100 visitors today.   Our exposure on TV, Radio and local press has really put us on the map and the public are hungry for more.
Remember we are on site each weekend from 9 am to 4 pm each Saturday and Sunday.  Come on down and join us for some of that time.